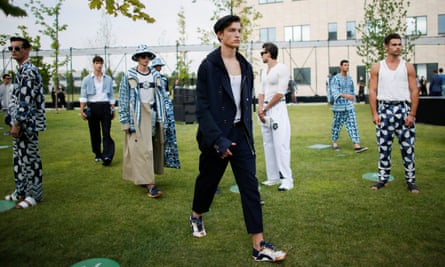 As the fashion industry grapples with how to turn a new leaf in the wake of Covid-19, Dolce & Gabbana became the first major fashion house to revive the physical catwalk show. Its menswear event on Wednesday was staged in the grounds of Milan's Humanitas University, where research into a coronavirus vaccine is currently taking place.
The 260 guests, mostly although not exclusively Italian, were asked to keep a 1-metre distance from fellow show-goers, wear a mask at all times, and warned that if their bodily temperature exceeded 37C on arrival, they would be refused access.
"We can't imagine a fashion world without live shows; designers, journalists, buyers and all of us need them," Domenico Dolce told the Guardian. "Slowly we have to start over, totally respecting the safety regulations in force. To us the live fashion show is fundamental, it's part of the dream."
Backstage, usually open to the press, was closed with hair and makeup artists wearing face masks and shields. Attendees, a mix of editors, clients and celebrities, including the singer Elettra Lamborghini, mostly– but not all – wore face coverings during the show while models removed their masks for the catwalk.